Leader;リーダー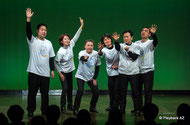 Playback AZ (Japan)
劇団プレイバッカーズ(日本)
Languages the leader can use
English, Japanese 英語・日本語
Abstract;要旨
 In a time of rubble, radiation, rage, and violence, we can yearn for a peaceful view through the window--a family at play, looking in. A peaceful scene that extends beyond the horizon, looking out. But the view, in fact, is cloudy, and our dreams are circumscribed by everyday life. Come and share the view through your window—how it is and how you would like it to be.
 災害,貧困,戦争,憤怒や暴力がある世界の中においても,私たちは窓辺に平和な風景を眺めることを夢みます。中には,幸せそうな休日の家族。外には,地平線を越えて広がる美しく平和な光景。しかしときに,現実の空は雲に覆われ,思い描いている夢は日常に忙殺されてしまいます。あなたの窓辺からみえる景色は,どんな景色ですか?この公演で分かち合いましょう。私たちの今の景色,そしてこれから先の景色を。
Biography;リーダー紹介
 Playback AZ
Founded in 1994, Playback AZ is the most prominent playback theatre company in Japan. They produce over 30 performances a year for a wide variety of social causes and venues. The actors have interests in theatre, education, medicine, and social activism. The company is known for its capacity for deep empathy and sensitivity. They are often invited by schools, government, and corporations for training and performances. In 2003, they successfully hosted the IPTN world conference.
 プレイバックシアターを世の中のために役立てることを目的に結成された劇団。1994年に発足して以来,教育,医療,社会問題など様々な分野で数多くのステージを実現させてきた。日本では最も活動歴が長く,公演数が多いプレイバック劇団の一つである。メンバーの多様性により,幅広い分野での公演,いじめや災害,虐待など深いテーマでの公演も実現させてきた。子どもから年配の方まで,幅広い観客層に支えられている。