Leader;リーダー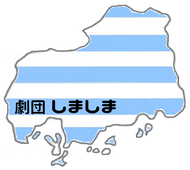 C-ma C-ma (Japan)
劇団しましま(日本)
Languages the leader can use
English, Japanese 英語・日本語
Abstract;要旨
 We know words such as disability, disorder, dysfunction, handicap, and abnormal. But there are many kinds of abilities we have. When we lose one of the functions, the other functions will becom stronger. You can notice new things. Robert Murphy, who was an anthropologist and had quadriplegia, wrote that living with disabilities was like an adventure to a new world in his book, Body Silent. All of us are getting old. It is a journey to find new ways to live with different abilities. We want to share your stories of using different abilities from before.
 能力障害,機能障害,ハンディキャップ,異常などという言葉がありますが,私たちは多くの違う種類の能力を持っています。何か一つの機能を失ったとき,その他の機能がより一層活性化されます。新しいことに気づくことができるのです。四肢麻痺を負った文化人類学者のロバート・マーフィは,障害を持って行きることは新たな世界を探検するようだと,自著「ボディ・サイレント」に書いています。私たちは皆,年をとります。それは違う能力で生きる新しいやり方を発見する旅なのです。以前とは違う能力を使ったというストーリーをお話しください。
Biography;リーダー紹介
 C-ma C-ma was established in 2014 by teachers and employees in Prefectural University of Hiroshima and nurses and therapists working in hospitals. Two members completed the practice course in School of Playback Theatre Japan in 2015. Three members will attend the same course in 2017 and 2018. Members of C-ma C-ma use exercises and forms from Playback Theatre as course works for occupational therapy students. C-ma C-ma has workshops and performances several times a year. Director, Hiromi Yoshikawa had an oral presentation in International Playback Theatre Conference in Montréal in 2015. C-ma C-ma had a workshop of health care in a conference in Tokyo, Japan in 2016.
 劇団しましまは,2014年に県立広島大学の教職員と病院勤務の看護師や作業療法士により結成された。団員2名は2015年にスクールオブプレイバックシアター日本校のプラクティスコースを修了,2017年と2018人には,団員3名が同じコースに参加予定。作業療法学科の学生の授業でプレイバックシアターの手法を取り入れている。年に数回,ワークショップや公演を開催している。代表の吉川ひろみは,2015年に世界プレイバックシアター大会(モントリオール)で,ヘルスケア専門職教育におけるプレイバックシアターの活用について口述発表を行った。劇団しましまは2016年の日本大会(東京)でヘルスケアをテーマにワークショップを行った。