Leader;リーダー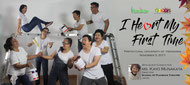 DULAMBUHAY PHILIPPINE PLAYBACK THEATER (Philippines)
ドゥラムブハイ(フィリピン)
Languages the leader can use
English, Filipino 英語・フィリピン語
Abstract;要旨
 This will be the first time that Dulambuhay as a group will travel abroad. It will also be the first time that it will be performing outside the Philippines, as well as the first time to perform before an international audience. Also, it will be the first time that the group will perform with Ms. Kayo Munakata as guest conductor. The group is very much looking forward to this new experience. Thus, it is very much fitting to use "I ª My First Time" as the theme for the show. 
We never forget our "first times" – first kiss, first day of school, first crush, first love, first heartbreak and many other firsts. The memories will always be in our hearts and in our minds. We never really move on from that. Most of the time, our lives are very much affected by those experiences; they make us who we are today.   
Dulambuhay wishes to rekindle the past as we look forward to the future. We hope to share with Asia Pacific playbackers memorable stories from yesterday as we also create our own first time in this gathering. We hope to take home with us good "first time" memories from this gathering that we can look back to as we move on towards a bright, hopeful tomorrow. 
 今回は,ドュラムブハイにとって,初めての海外公演です。フィリピン外で公演するのも,国際的な観客の前で公演するのも初めてです。宗像佳代さんをゲストコンダクターとしてお迎えして演じるのも初めてです。私たちはこの初めての体験をとても楽しみにしています。このように,"初めて"はショーのテーマにぴったりです。私たちは"初めて"を忘れません。ファーストキス,学校での初めての日,初めての事故,初めての恋,初めての失恋など,たくさんの初めてを。その記憶は私たちの心にいつもあります。私たちは本当にはそこから動き出しません。多くの場合,私たちの生活はこれらの経験に大変影響されています。それらが今日の私たちを形作っているのです。ドュラムブハイは,未来に向かうために,過去に再び火をつけたいと思います。私たち自身の初めてを作るこの時に,アジア太平洋プレイバッカーズの記憶に残るストーリーを共有したいと思います。この大会から,明るい希望に満ちた明日に動き出す時に振り返ることができる,素晴らしい"初めて"の記憶を持ち帰ることを期待しています。
Biography;リーダー紹介
Dulambuhay is a play on words in Tagalog, that is, dula ng buhay (drama of life) and dulang buhay (a live theatre). Dulambuhay therefore is both theatre of life and live theatre, a new breath of wind in Philippine theatre. Our mission is to bring back theatre as a living tradition, part of the life system of our people. Playback theatre is part of the repertoire of Dulambuhay. Formerly known as Manila Playback, our group has performed in private functions such as human resource conventions, corporate team building, weddings, birthdays, and other special occasions.
  ドュラムブハイはタガログ語の言葉遊びの一つで,ドュラ・ブハイ(命のドラマ)とドュラム・ブハイ(生きるドラマ)という意味がある。つまり,ドュラムブハイは命の演劇と生きる演劇という両方の意味があり,フィリピン演劇界の新しい息吹なのだ。生きている伝統として,人々の生活システムの一つとして,演劇を持ち込むことが,私たちの使命である。プレイバックシアターは,ドュラムブハイの活動の一部である。以前からマニラプレイバックとして知られてきた私たちのグループは,人材会議,協力的チーム形成,結婚式,誕生日のような特別なときのプライベートな場面で活動している。