Leader;リーダー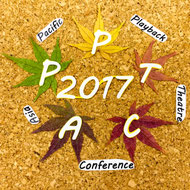 Hiroko Yanagawa(Japan)
柳川比呂子(ひかり)(日本)
Languages the leader can use
Engish, Japanese 英語、日本語
Abstract;要旨
 A stage will be shining through expanding imagination from a story told and producing harmony of acting and sounds. The experience of making sounds by yourself without musical instruments will remain even after you return to your town. It's my pleasure to improve your skills as not only a musician, but also an actor and conductor. Let's enjoy and have a meaningful time together.
 話された内容からイメージを広げ,アクティングと息の合った音を醸し出すことでステージは輝きます。楽器に頼らずあなた自身が作り出す音の世界の経験は,ご自身の地に戻ってからも役に立つことでしょう。ミュージシャンとしてのみならず,アクターとしてコンダクターとしてのスキルアップにも繋がれば幸せです。楽しく充実した時をご一緒しましょう。
Biography;リーダー紹介
 This is Hikari. I received various awards from YAMAHA electric organ competitions. I have studied music through working as an instructor at YAMAHA and moving to the United States when my husband was transferred overseas. I learned "improvisation" through working at YAMAHA. I learned psychology after coming back from the US. Then I became a family consultant and discovered Playback Theatre. I have thought it's just my way for 17 years. I realize it's my mission. I'm looking forward to meeting you again.
 私は「ひかり」です。学生時代にはヤマハのエレクトーンのコンクールで様々な賞を頂いてきました。ヤマハ講師を経て,夫のアメリカへ転勤に伴い,音楽の勉強を続けました。ヤマハでの学びの特徴は「即興」にあります。帰国して心理学の学びに変更し,家族相談士となりプレイバックシアターに出会いました。これこそが我が道と思って17年。ミュージシャンは私の天職と自覚しています。また皆さんと会えることを楽しみにしています。