Leader;リーダー
Unfortunately, Home group 4: SHARING DREAMS, SHARING REALITIES has canceled because Veronica can not attend the conference. Participants who choose this group will move to the second or third choice.
残念ながら,ホームグループ4の夢の共有,現実の共有は,ベロニカが参加できなくなったのでキャンセルになりました。このグループを希望した方は,第2,3希望のグループに参加していただくことになります。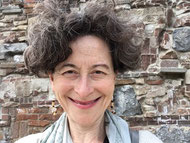 Veronica NEEDA (UK);
ベロニカ・ ニーダ (イギリス)
Languages the leader can use
English & Cantonese 英語・広東語
Abstract;要旨
 We will create a little family within the big gathering of people at APPTC2017, using this time to meet each other in a deeper way. Finding our common language through Playback Theatre, we will share about why we are here, what is behind us, and what we move towards. This time is also for us to share, reflect on and integrate our experience of what is happening during these days at the conference. What are we learning, what is surprising us, what is exciting, what is hard to bear or understand? How can we support each other step by step towards making our dreams our reality?
 私たちはAPPTC2017という大きな集りの中で,小さな家族を創ることができるでしょう。この時間を使って、お互いに深く向かい合うことができます。プレイバックシアターを通して私たちの共通語を見つけ,私たちはなぜここにいるのか,背後に何があるのか,どこに向かっていくのかについて共有しましょう。この大会で起こった経験を共有し,振り返り,統合する時間にもなります。何を学び,何に驚き,何にわくわくし,何を我慢したり理解することが大変でしょうか。私たちの夢を一つずつ現実にしていくために,どのようにお互いに支え合うことができるでしょうか。
Biography;リーダー紹介
 Veronica Needa 李棫基
From Hong Kong originally, she has now lived in London for 32 years. She found Playback Theatre in 1991 and has followed its calling since then. She graduated from the School of Playback Theatre (NY, USA) in 1995; and is a founder-member of London Playback Theatre, director of True Heart Theatre, and also of the School of Playback Theatre UK. She was president of the International Playback Theatre Network (1997-2003), and until recently was on the Board of the Centre for Playback Theatre (NY, USA). She is an Accredited Playback Theatre Trainer. 
http://www.playbackschooluk.org              
http://www.londonplayback.co.uk
 香港で生まれ,32年間ロンドンで暮らす。1991年にプレイバックシアターに出会い続けている。ニューヨークのスクールオブプレイバックシアターを1995年に卒業し,ロンドンプレイバックシアターの創設者でありメンバーである。トゥルーハートシアターとスクールオブプレイバックシアターロンドンの代表である。1997年から2003年まで国際プレイバックシアターネットワーク会長を務めた。最近までプレイバックシアターセンターの役員であった。プレイバックシアタートレーナーの資格をもつ。