Leader;リーダー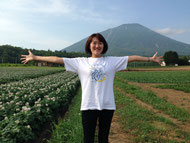 Aki KOMORI (Japan);
小森亜紀(日本)
Languages the leader can use
English & Japanese 英語・日本語
Abstract;要旨
 The purpose of the workshop is cross-cultural communication. Have you ever been surprised by a toilet without a door? Or, mesmerized by a "state of the art" Japanese toilet? Through encountering stories told by people who have different mother tongues you may realize unexpectedly your own cultural identities. You, with your own custom and culture, are going to be one of the essential elements of this program. Our stories connect each other through "the experience", such as being surprised by difference, impressed by something we have in common and so on. Playback Theatre is one of the best tools to help people engage in meaningful dialogue. Let's talk to each other about our present, past and future. There will be learning, different from that which we can get through the internet, TV or Newspaper. We can create 3 special days full of adventure and exploring.
 このグループでは、背景や境遇が異なる人とつながることに挑戦します。「トイレに入ってみたらドアがない」そんな体験をしたことがありますか?話すことば、暮らすところ、馴染みの食べ物などを異にする人のストーリーに出合うことで、思いがけず自分自身のアイデンティティに気がつくかもしれません。ご自身の習慣や文化を携えてこの場に集まってきた皆さん自身が、このプログラムの大切な構成要素です。互いの違いに驚いたり、意外な共通点に感動したり、行き交うストーリーが私たちをつなぎます。プレイバックシアターは、人々が互いの違いを越えて、深い対話をするのに適した手段です。私たちの現在、過去、そして未来を語り合いましょう。インターネット、テレビ、新聞などのメディアとは、ひと味違う学び方ができる3日間を、そして冒険と発見の3日間を、一緒に創りましょう。
Biography;リーダー紹介
Faculty of School of Playback Theatre Japan(SPTJ). I take an active part in Playback AZ as a conductor, actor and musician. I am invited by groups from all over Japan to give guidance and supervision. I taught "Becoming a fearless and confident musician" in the world conference in Montreal in 2015 and taught an international course in SPTJ in 2016. I am an occupational therapist and apply Playback Theatre to the course of education for occupational therapy students. I am also a mother of 3 children and provide workshops for mothers and kids in my local community.
 スクール・オブ・プレイバックシアター(SPTJ)日本校講師。劇団プレイバッカーズでは、コンダクター、アクター、ミュージシャンとして活躍中。日本各地のグループに対してスーパービジョンもしている。2015年モントリオール世界大会で「効果的なミュージシャン」を、2016年SPTJでは国際コースを指導。作業療法士であり、作業療法士養成課程授業にプレイバックシアターを導入。また、3人の小学生の母でもあり、地域の母親や子どもたちへのワークショップも行っている。