Leader;リーダー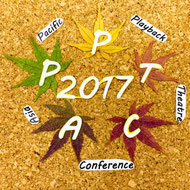 Encounter Playback Theatre 言遇劇團 (Hong Kong)
エンカウンター(香港)
Languages the leader can use
English, Chinese 英語・中国語
Abstract;要旨
 Some say happiness ends in a flash; sadness stays eternal. Some say the opposite. Do you have stories that are embeded in your heart? As if they are never-ending,/ ever-occurring; vivid memories and images that flashes back every time you were prompted. And you notice that the past has gone, but the taste lasts. It could be bitter, it could be sweet, it could be strong, it could be weak, sour, disgusting, memorable, prolonged, implicit and something more. How do these stories affect you? Come and set those lingering memories free, let them be heard and be seen.
Encounter Playback Theatre (Hong Kong) will be here for you and your stories. 
 幸せは一瞬のうちに消え,悲しみは永遠に残るという人もいるし,その逆のことを言う人もいます。あなたの心に閉じ込められているストーリーがあるでしょうか。まるで終わりなく常に起こっているように,あなたが疲れた時に毎回フラッシュバックされる鮮烈な記憶やイメージが。過ぎ去った過去と気づいているのに,その味が残っている。苦いかもしれないし甘いかもしれないし,強いかもしれないし弱いかもしれない。酸っぱい,苦々しい,記憶に残る,長きに渡る,暗黙の,そのほかにも,,,これらのストーリーはあなたにどのような影響を与えているでしょうか?エンカウンタープレイバックシアター(香港)は,ここであなたとあなたのストーリーをお待ちしています。
Biography;リーダー紹介
 Established in 2009, Encounter Playback Theatre is an artistic group focusing on Playback Theatre. The company enhances their professional standard and practices Playback Theatre with regular rehearsals, performances and open workshops. We believe there is care and connection among people. It is a beautiful blessing for people to encounter each other's lives through story sharing and dramatic enactment.
 2009年設立。エンカウンタープレイバックシアターはプレイバックシアターに特化した芸術集団である。カンパニーは,定期的な稽古,パフォーマンス,オープンワークショップで,専門的水準と実践力を高めている。私たちは人のあいだのケアとつながりを信じている。それはストーリーの共有とドラマチックな劇を通じてお互いの人生に出会った人々への美しい祝福なのである。