Leader;リーダー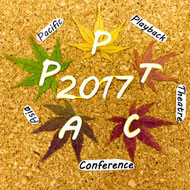 Yaya (China)
ヤヤ(中国)
Languages the leader can use
English, Chinese 英語・中国語
Abstract;要旨
 How about your first trip, love, job? What do you think of when hear "first" you heard. We will share stories with happy or bad experiences.   
 We will listen to your stories and make a gift for you.
 あなたの初めての旅行,恋愛,仕事はどんな風だったでしょうか。「初めて」という言葉を聞いたときのあなたにとっての意味はどんなものでしょうか。あなたの経験した幸せなストーリーもそうでないストーリーも分かち合いましょう。あなたのストーリーを聞き,あなたへ贈り物をします。
Biography;リーダー紹介
 Yaya was born in 2008. Since 2011, we have participated in the Playback Theatre and continue to practice and perform. We formed a performing team of 6 people who will be performing.
 ヤヤは2008年に誕生した。2011年からプレイバックシアターを始め,練習や公演を行っている。実践するメンバーは6名。