Leader;リーダー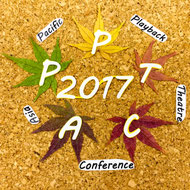 Knock On(Japan)
ノッコン(日本)
Languages the leader can use
English, Japanese 英語・日本語
Abstract;要旨
 Knock on had a performance with the theme of "Diversity" in the international gathering in Montreal in July 2015. We felt various aspects of society never had thought before through deep stories told there. We hope that "Difference" and "Acceptance" which are elements of "Diversity" will be connected to "Asian dream". Stories of people from many countries will resonate in your hearts.
 2015年7月のモントリオールでの世界大会で,私達Knock-onは「Diversity:多様性」をテーマとしたパフォーマンスを行いました。とても深いストーリーが語られ,それまで感じることの出来なかった「社会」の多様な側面を感じることが出来ました。「アジアの夢」をテーマとする今回のアジア大会では,「Diversity」の要素である「Difference:違い」と「Acceptance:受容」から「アジアの夢」の未来へ繋げて行きたいと考えています。多くの国々の方々からのストーリーが,ご来場の皆さんの心へ響くことを願っています。
Biography;リーダー紹介
 Knock on was born as a project team to support recovery the Great East Japan Earthquake with Playback Theatre. We gather and implement Playback Theatre for our current concept, "Wishing: what we want to do" through several activities. The members are very kind at heart and have passion.
 2011年東日本大震災へ復興をプレイバックシアターを用いて支援しようと生まれたプロジェクトチーム。様々な変遷を経て現在はメンバーの持つ「Wishing:やりたいと欲すること」にメンバーが協力してプレイバックシアターを実現するというコンセプトを持って活動している。多方面から集まったメンバー達の心根は優しく,プレイバックシアターについては熱い真意を持っている。