Leader;リーダー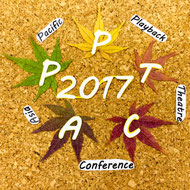 Ferran Luengo(Spain)
フェラーン(スペイン)
Languages the leader can use
English 英語
Abstract;要旨
 Spain is experiencing difficult political times, with great cuts and high taxes for the cultural activities, even so a strong kernel of applied theatre has been rising during recent years. Of course, playback theatre is one of the forms of applied theatre that started wrapped in shyness. Only four Spanish cities have with organized playback theatre companies: Madrid, Sevilla, Salamanca, and Valencia. Since I'm from the latest, my poster session will be strongly based on our activities being the only Mediterranean playback theatre company.
Our company, Teatro Playback Inestable, started three years ago from the postgraduate theater studies in education whihch is currently upgraded to applied theatre master's degree studies at Valencia University. Through these years, we have been working with many social groups. We have played for children from low profile schools and also for high schoolers. We have shown the value of playback theatre to university students struggling to become teachers and social workers. Also, we performed at civic centers and for cerebral palsy patients. Overall, we just feel that our work has just started.
In this poster session, I would like to show what we have achieved.
 スペインは今,政治的に厳しい時代で,文化的活動の予算は削られ,高い税金が課せられています。応用演劇の力強い芯が最新発展してきています。もちろんプレイバックシアターは,応用演劇の一つであり,光に包まれてスタートしました。スペインでは,プレイバックシアターの劇団があるのは,マドリッド,セビリア,サラマンカ,ヴァレンシアの4都市だけです。私も最近始めたところで,この発表では私が所属する地中海のプレイバックシアター劇団だけの活動を述べます。私の劇団「テアトロ・プレイバック・イネスタブル」は,ヴァレンシア大学の応用演劇修士課程で学ぶ大学院生によって,3年前に始まりました。この3年間,多くの社会集団と一緒に取り組みを行いました。目立たない学校や高校生を対象に活動してきました。教師やソーシャルワーカーを目指す大学生を対象にプレイバックシアターの価値を示しています。市民センターや脳性麻痺の人たちにも公演を行っています。私たちの活動は始まったばかりです。このポスター発表では,私たちが達成したことについて報告します。
Biography;リーダー紹介
 Actor, pedagogue artist, improviser, playwright, postgraduate in applied theater studies and technical engineer, Ferran dove into theatre when he was a university student, 17 years ago, and he could not let go. In his training process, which never ends, he has worked several scenic disciplines such as clown, improv, singing and, of course, acting. He is one of the founding members of "Teatro Playback Inestable" from Valencia. He is involved in the improv scene and also acts, directs and writes in his company Laspontània Teatre. He holds improv workshops for teenagers and theatre workshops for eldery women.
 俳優,芸術教師,即興劇人,脚本家,応用演劇研究の大学院生,エンジニア。17年前,大学生の時に演劇界に飛び込み,それから離れることができない。トレーニングの道のりは終わりがなく,演技はもちろんのこと,道化師,即興,歌,といった舞台関連のこと取り組んでいる。ヴァレンシアの「テアトロ・プレイバック・イネスタブル」の創設者の一人であり,また,ラスポンターニャ劇団では,インプロ,俳優,監督,脚本にもかかわっている。10代の若者のためのインプロワークショップ,高齢女性のための演劇ワークショップを行っている。