Leader;リーダー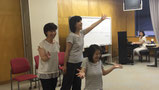 Chikako Koyama(Japan)
古山千佳子(ちかぽん)(日本)
Languages the leader can use
English, Japanese 英語・日本語
Abstract;要旨
 We conducted two playback theatre workshops for a total of 39 people who support children with disabilities. The first workshop included 20 participants and the second workshop included 19 participants. Participants in these workshops were school teachers, nursery school teachers, child counselors, child psychologists, speech-language-hearing therapists, occupational therapists, and pediatricians. After the workshop, all participants answered a questionnaire. Thirty eight of the 39 participants answered that it was "fun" and all participants answered that they were "satisfied". On the other hand, two participants answered that they experienced "mental distress". Thirty four of the 39 participants answered, "I found my new internal aspect," 37 participants answered, "I have found a new internal aspect of other participants," 35 participants answered, "I became friends with other participants." Several participants gave the following free opinions; "I felt a sense of commonality in various situations;" "I shared my experience with others and made it easier;" "I felt various drama in our life;" "I have to meet with playback theatre workshop in order to get over my difficulties." Participants listened to the stories of others with similar experiences, shared their feelings, and, as a result, they got the opportunity to look back on their experiences.
 障害児の発達支援に関わる人々を対象にプレイバックシアターワークショップを1回3時間で2回実施しました。ワークショップの参加者は1回目20名,2回目19名,計39名。参加者の職業は教員,保育士,児童相談員,児童心理士,言語聴覚士,作業療法士,小児科医,その他。アンケートの結果「楽しかった」と回答した者が39名中38名,「参加して良かった」が39名。その一方で「苦痛だった」と回答した者も2名。さらに「自分の新たな一面を知った」34名,「他者の一面を知った」37名,「他の参加者と仲良くなれた」35名。自由意見には,色々な立場に共感できた,気持ちを共有し楽になれた,気持ちに寄り添えた,生活の中のドラマを感じた,自分の殻を破るには数回参加が必要,などがありました。参加者らは,類似の経験を持つ他者の物語を聴き,気持ちを共有することで,自らの経験を見つめ直す機会を得たと思われます。
Biography;リーダー紹介
 I am a member of C-ma C-ma. I will take a practice course in school of playback theatre Japan this year. I work in the department of Occupational Therapy at a university and I am trying to introduce playback theatre into occupational therapy education, and support groups for children with disabilities.
 劇団しましまの劇団員として活動中。今年はスクール・オブ・プレイバックシアター プラクティスを受講する予定。大学で作業療法士養成教育に従事しており,学生の臨床実習後のセミナー等にプレイバックシアターを導入している。同時に,子供たちや発達支援に関わる人々にもプレイバックシアターを導入しようと模索中。