Leader;リーダー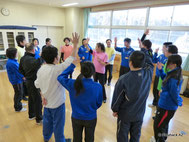 Kumiko Sato (Kumi)
佐藤久美子(くみ)(日本)
Languages the leader can use
Japanese 日本語
Abstract;要旨
 Playback AZ I belong to has involved education to stop bullying at elementary and junior high school through active learning. Students think and seek resolutions through Playback Theatre. The class is interactive, voluntary, collaborative, and practical. It is different from ordinary classes. In this poster presentation, our educational method and practice will be presented for more than 10 years. It has been change to apply for Japanese based on practices at elementary schools in New York.
 私が所属する劇団プレイバッカーズでは、全国の小・中学校にて、アクティブ・ラーニング「演劇によるいじめ防止授業」を行っています。プレイバックシアターを通して主体的に考え、解決策を探し、通常の授業とは異なる対話的、主体的、協同的に学べる体験型授業です。このポスター発表では、ニューヨークの小学校の実践を元に私達が10数年に渡り、試行錯誤しながら日本向けにアレンジしたやり方,実践してきたことについて報告します。
Biography;リーダー紹介
 Kumiko Sato is working as a member of Playback AZ. She was a former teacher. She is a therapist of family constellation. She uses Playback Theatre methods in a class for university students and skill up courses for industrial counselors. She is a trainer of School of Playback Theatre Japan.
 劇団プレイバッカーズのメンバーとして活動中。元小学校教諭。ファミリーコンステレーション(家族療法)のセラピスト。大学の授業、産業カウンセラーのスキルアップ講座にもプレイバックシアターを導入している。スクール・オブ・プレイバックシアター日本校講師